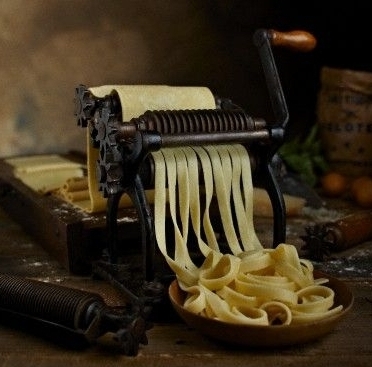 VINNIE'S PASTA IS A FAMILY OWNED BUSINESS THAT HAS BEEN SERVING THE GREATER TORONTO AND HAMILTON AREA SINCE 2000.
WE STRIVE TO PERFECT OUR IN-HOUSE RECIPES SO THEY ARE BOTH HEALTHY AND DELICIOUS. OUR PASTA IS CRAFTED WITH FRESH LOCALLY SOURCED INGREDIENTS AND CERTIFIED CANADIAN FLOURS.
THERE ARE NO ADDITIVES, PRESERVATIVES, ARTIFICIAL COLOURING OR VEGETABLE DYES.
WHY FRESH PASTA?
THE BASIC INGREDIENTS OF FRESH PASTA ARE DURUM WHEAT SEMOLINA, FRESH EGGS AND WATER. OUR EXTENDED RANGE OF FRESH PASTA INCLUDES ORGANIC WHOLE WHEAT, VEGAN (NO EGG) AND GLUTEN FREE OPTIONS.
WHILE DRY PASTA CAN BE STORED AWAY FOR MONTHS, FERSH PASTA IS MADE AND CONSUMED WITHIN DAYS.
FRESH PASTA OFFERS A SOFTER AND MORE REFINED TEXTURE AND CAN BE READY WITHIN MINUTES (HALF THE TIME IT TAKES TO COOK DRY PASTA).
" ALL tOGETHER MEANS HIGHEST QUALITY AND DELICIOUS REAL TASTE OF FRESH PASTA "
OUR PASTA IS MADE TO ORDER AND DELIVERED TO YOUR DOOR SO YOU CAN BE SURE THAT YOU ARE GETTING EXACTLY WHAT YOU PAID FOR!